In the midst of the latest financial crisis, Verizon received $1.5 billion thanks to two federal bailouts
24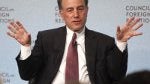 We have quite an interesting news that doesn't speak highly of
Verizon
's CEO
Ivan Seidenberg
. According to a
Washington Post
article, Verizon did receive $1.5 billion in two separate federal bailouts in the midst of the financial crisis. This is the very same "we-are-not-taking-money-from-the-gov" Verizon, which sounds weird because its CEO - Ivan Seidenberg - bashes
"a lot of really bad business models created by the government"
in a
Wall Street Journal
interview dated October 14, 2008.
A Verizon spokesperson commented that this was
"an extraordinary time,"
adding that
"there was no credit available otherwise (at the time)"
. Of course, it's not particularly surprising that a CEO of a big corporation is defending it in every way possible, but it raises questions about the financial stability of the US carriers. What's your opinion on this revelation?
source:
Washington Post
and
WSJ
via
Electronista