In Tajikistan you can divorce your wife with an SMS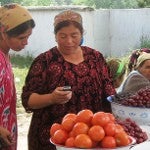 Men in Tajikistan are allowed to divorce their wives the easy way - via an SMS containing only three words.
All they have to do is to write the word "talaq" three times and then send the message - according to Muslim law, saying the triple talaq is just enough to divorce your wife, but it seems sending a message with it does the job as well.
Tajik men may be facilitated by this divorce option, but clerics in the country are actually divided on the issue - some say it's "too impersonal" to leave your wife with a message and have issued a fatwa against it.
Singapore has banned this practice, while it's allowed in UAE under certain circumstances. A scholar in Qatar has ruled out it's fine to divorce your wife via an e-mail.
source:
Mobiledia
via
textually.org