Imagine if the T-Mobile G2 had starred in classic movies
2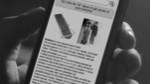 Lights, Camera, Smartphone, Action. Those cut-ups over at College Humor have put toghether clips of some classic movies with just one little change-imagine if the smartphone was around during the filming of the picture and played a major role in the plot.
Starring as the smartphone in the motion pictures is the T-Mobile G2. Either the phone has a great agent or else HTC has struck a nice product placement pact. The handset does a great acting job in some of the classic films like Citizen Kane, Casablanca and Back to the Future to name a few
Would these movies still have received two thumbs up from the reviewers had the Android powered handset stepped in front of the camera to do its thing?
source:
CollegeHumor