If smartphones could talk to each other, they'd ruin every date (comic)
12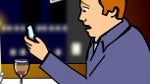 Chances are if you have a smartphone in your pocket it's not staying there for too long. We just check our phones way too often, always searching for something, checking email, Facebook, taking pictures. And all of this information gets stored somewhere in the cloud, and if all of it came together, smartphones would probably know more about us than our closest friends.
But imagine if smartphones could actually exchange this data between each other so people you are seeing get to know everything your smartphone knows about you.
Would that be a disaster of biblical proportion or a huge benefit? We tend to think that it'd be the former, especially when you go on a first date. Here's one scenario how it could all go wrong from the start, in a hilarious comic by the Joy of Tech.
source:
Joy of Tech