Humor: The newest BlackBerry
13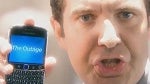 You may recall that service outage that affected
BlackBerry users in Europe, the Middle East and Africa
. The timing could not have been more profound as it happened on the day the iPhone 5 launched.
The outage lasted several hours, but RIM was able to correct the problem fairly quickly (compared to the three day blackout in October of 2011) and the company apologized. The Rick Mercer Report is a Canadian entertainment program found on CBC and they decided it was time to show the tact and talent of ribbing one of Canada's pride and joy companies.
Even BlackBerry owners will appreciate the humor of this video. Where is the fun if one cannot laugh at oneself occasionally, right? With no further ado, RMR presents BlackBerry's newest device, The Outàge.
source:
Rick Mercer Report YouTube channel