Humor: Tech companies and their corresponding Christmas icons
23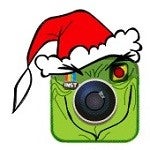 You got to hand it to the gang at The Joy of Tech, they can read into things the way many of us feel, but rarely articulate to one degree or another. Their take on Facebook, Instagram and RIM will certainly extol a chuckle. Apple was treated with kid gloves.
With Microsoft using the lovable
Abominable Snowman as part of its Windows Phone 8 campaign
, we see a perfect fit to rib at them for the same reason. Amazon is like that clingy girlfriend. Even Santa is in on the action.
source:
The Joy of Tech