How to explore your 2014 Motorola Moto G or Moto X smartphone's hidden Qualcomm Settings menu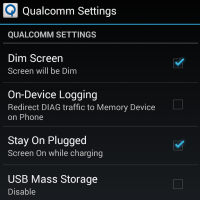 Did you know your 2014 Moto X and Moto G have a little secret menu of their own? Indeed, comfortably out of the average user's sight lies a hidden Qualcomm Settings menu. It lets you pull some special manoeuvres on the phones, such as disabling sensors, setting data limits, turning off USB storage options, disabling Incall Music, and more! This chamber of secrets can be accessed without any modding hacks or tricks. You don't even root privileges! You just have to install a third party launcher from the Google Play store. Even the ubiquitious Nova Launcher that everyone knows and loves has what it takes.
So, sit back folks, we'll tell you what to do in a jiffy.