How-To: Use a HTC Touch Diamond or Touch Pro as a mouse replacement
6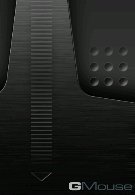 GRemote is a freeware application which can convert the
HTC Touch Diamond
or the
HTC Touch Pro
into a pointing device similar to a Logitech MX Air mouse (i.e. it uses the accelerometer(s) in the devices as a gyroscopic pointer, such that tilting the device left, right, up or down produces a corresponding movement in a cursor on the computer).
GRemote requires a connection with the computer (WiFi, bluetooth or USB) and the computer must be running Windows or Linux. Installation is a somewhat involved process and the application is very much in beta, but it should generally work as advertised with the abovementioned devices and may soon also work with other, similar devices (such as the
Samsung OMNIA
).
iPhone users can turn to "Air Mouse" for similar functionality (available on the Apple App Store for $5.99).
source:
xda-developers
via
jkOnTheRun