How Indians are going high-tech and watering crops via mobile phone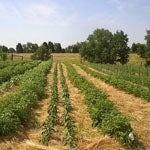 Farming on the phone? This is not a review of a new version of Farmville, it's a real-life account of farming with a cellular phone.
For years, farmers in India have had to walk miles per day from pump to pump to activate the water to the farmland. This is all changing as the farmers are upgrading to mobile-enabled water pumps to bring water to their land.
BBC reporter Spencer Kelly has just posted a report, showing how farmers are harnessing technology to save time and money. Kelly reports how one farmer he followed was able to avoid walking miles per day by installing a mobile-enabled water pump, allowing him to turn on and off the water with a simple phone call.
Spencer Kelly's video is available:
here
source:
BBC News