Hold still! Here are 7 of the best tripods for smartphones!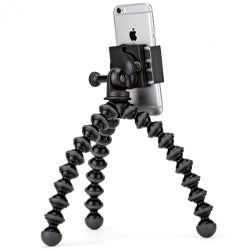 Today's smartphone cameras have gotten so good that, no joke there, most users prefer to invest in a flagship handset, instead of going for a consumer-grade camera. And that's understandable – the
quality discrepancy isn't huge
, and the smartphones
can often come out on top
, when we are talking consumer-grade cameras. Plus, a mobile phone is multi-purpose — with a handset, one can share photos of their breakfast on Instagram, read the morning news on Flipboard, re-schedule all their business emails for a later time with Inbox, post an incredibly insightful philosophical / political thought on Facebook, and still not be done with their morning coffee! But enough sidetracking, we are here to talk about cameras.
It may be a bit comical, maybe even curious, when you see someone have their smartphone mounted on a full-fledged camera tripod, taking pictures or shooting a video. But, it really isn't all that odd — as explained in that lengthy intro of ours, nowadays, buying an expensive smartphone is also almost guaranteed to net you a great camera (and if it doesn't – you got a bad deal). And, if you spend $650+ on a device, you'd like to use it to its full potential, wouldn't you? Well, that includes the camera, of course!
So, optical image stabilization is great and all, but if you want your smartphone camera footage to look a bit more "serious", you still need to consider options more stable than a pair of shaky hands. And that's where smartphone tripods come in! Sure, you can get a regular smartphone clasp for a full-sized professional tripod, but if you happen to be more drawn to the casual and/or portable solutions out there, this is not the best way to go. You can use the following little gizmos as stands to take no-hands selfies, time-lapsed clips, stop-
motion
videos, better shots of the night sky with some slow shutter speeds, and lots more. And here are some of the best choices we found!
Super-compact
Pocket Tripod
Price: $25 ($18 on Kickstarter)
Pocket Tripod used to be an iPhone-only accessory, but the manufacturer has decided to expand its product for all shapes and sizes. At the moment of writing this article, the new, multi-sized Pocket Tripod is still up on Kickstarter with 17 days left, but has gathered $97,000 in pledges. Its goal was $6,000.
Not a "tripod" per se, this gizmo is more of an adjustable stand, but is certainly worth your consideration if portability is a top priority. It can fit in the credit card compartment of your wallet and basically be with you wherever you go, ready for some spontaneous photo shooting.
Joby GripTight Micro Stand
Price: $29.95
A very small tripod stand that can easily be folded to become even more compact. While it's not wallet-sized, it can certainly be fitted in a pocket, small bag, or purse, and be at the ready whenever you need to steady up that viewfinder. When ordering, the user can choose a size for the smartphone clamp – regular, large smartphone, or up to a small tablet (the latter adds $20 to the tripod's price, though). Alternatively, if you have a smartphone clasp you are happy with, you can buy just the tripod
for $19.95
.
Woxom SlingShot
Price: $61.20
A bit on the pricey side, and it seems those may be going extinc pretty soon. The SlingShot is not meant to fling your phone, despite its name. It acts as a handle, which can help you keep a more comfortable grip on the handset while shooting long videos. Two "legs" can pop out of the handle to transform it into a cute, little tripod.
Medium-sized
Joby GripTight GorillaPod Magnetic Tripod
Price: $39.95
Joby's GorillaPods have been famous for a while – a tripod with flexible legs that can wrap around posts, branches, and lean against any debris, giving you extreme options when it comes to setting up that crazy selfie / landscape / aliens landing shot. Well, the Magnetic GorillaPod makes use of the very same legs, but this time around, they have powerful magnets at their bottoms, allowing the user to attach the tripod to metallic surfaces, where wrapping around is not possible.
This one comes bundled with a GripTight smartphone clasp (choose size before adding to card), but if you already have a phone holder that you are happy with, you can make use if
this Amazon offer
– for $26.99, you get the tripod, a Bluetooth shutter remote for those distant selfies, and a cheap smartphone clamp that you should avoid using (but hey, a spare is a spare).
Lollipod
Price: $55.66
The Lollipod is fairly compact when folded, but can be expanded up to 44 inches (1130 millimetres). It's a multi-purpose gadget – at it's lowest point, it's a classic small tripod; expand it a bit and it becomes a selfie stick; at full size, it's a respectably high camera stand. It weighs 11 oz (320 grams) and can hold up to 15 oz (420 grams), and if stability is an issue, a special detachable net can be placed on the bottom, under the device's legs — fill the net with weights to keep the tripod in place.
Keep in mind, it doesn't come with any sort of clamp for smartphones, tablets, or even cameras for that matter, it just has the standard carving to attach to one. So, you will have to get a holder separately.
Super-fancy!
Iztabilizer Dolly
Price: $59.95
How about some moving shots? The Dolly moves on 4 wheels and has a robust, scorpion-like tail to which one must attach their smartphone. The wheels can be set in different configurations, so shooting a video while circling left and right is also possible – just like the pros. And, sure, prop up Dolly on one spot and it can still act as a stationary smartphone holder.
Istabilizer Gimbal
Price: $349.95
Like a work of dark magic, the Gimbal will lock your phone's position in place and do wonders with stabilizing your video. Its clasp can hold any phone up to 3.5 inches wide (body width, not screen). The user holds on to a handle, which connects to the smartphone via a special mechanical shoulder which is dead set on not letting you create shaky footage! The device works on batteries and comes with its own set of rechargeable ones.