Hola from Barcelona - PhoneArena has arrived to cover MWC 2014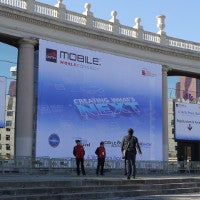 Ah, it's great to be back in good old Barcelona - the home of the annual Mobile World Congress expo, where companies from all corners of the world meet to let us experience their latest and greatest inventions. And what a promising MWC this is shaping up to be! We have Samsung, HTC, Sony, Nokia, LG and many others ready to introduce some new, killer products, so the next few days are sure going to be packed with pure tech awesomeness. With a little bit of luck, we may see the Galaxy S5, the new Sony flaghsip, an Android phone by Nokia and many, many other intriguing handsets.
But before we get down to business, let's take a moment to enjoy the beauty of this marvellous city, shall we? Check out the image gallery below and stay tuned for our coverage!