Hocus Pocus: Supernova 7510 for T-Mobile shows up and disappears on Nokia site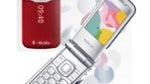 Nokia have introduced a T-Mobila USA version of the 7510Supernova on its site. Obviously, it leaked by a mistake, and has beentaken down shortly after.
Like it's international counter part, the American model of the 7510 is EDGEonly, not 3G. The flip phone consists of a hidden outside display, microSD card slot, FM radio,a 2.2" QVGA displaysupporting up to 16.7 million colors and a 2-megapixelcamera with an integrated LED flash.
The user can to mix up colorswith the colorful, exchangeable Xpress-on covers. The handset will be available in red, aquamarine and brown colors.
source:
EngadgetMobile