Ho-ho-ho, here's 9 discounted must-have Android and iOS games to keep you busy if the weather outside gets frightful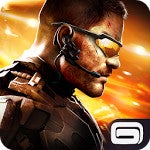 Ho-ho-ho, the holidays are here, which means that a lot of us are about to leave the comfortable lair that we call home and go visit our relatives, without our PCs, and without our consoles. So what is a fellow to do, but load up a few games on their mobile device? Thankfully, the App Store and Play Store are so full of discounts, they're dripping. We picked out a few must-have titles for both Android and iOS, which have received the good ol' price cut.
Let's see, we've got some great shooters, RPGs, strategies, adventures, and platformers. Did you find something that tickles your fancy? Let us know which title you picked out and how you liked it.