Hit the road, jack: The best Lightning connector headphones and earbuds for your iPhone 7
4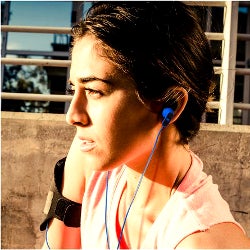 The
iPhone 7
and
7 Plus
have arrived, and with them Apple brought a bit of a conundrum on our unsuspecting heads, namely the lack of the typical 3.5mm audio jack that most phones nowadays ship with. Given the many millions of units that the two new iPhones are expected to sell, some might not be satisfied with the
EarPods with Lightning
connector that Apple ships with them, and might also not be willing to lug an adapter at the end of their current audio-listening gear.
Enter the third-party companies that are already salivating at the prospect of people queuing en masse to swap their current 3.5mm headphones for Lightning-equipped ones. Surprisingly enough, there haven't been that many of them announcing such headphones or
earbuds
, perhaps since all were on standby to see if Apple will indeed announce an iPhone without an audio jack. With the
iPhone 7
event behind us, however, the race is on, so here are some of the best headphones with a Lightning connector at the end, for your choosing pleasure. and as an alternative to Apple's
$29 Lightning-equipped EarPods
.
Yep, those were one of the first Lightning-equipped earbuds promised by a reputable brand, and they lurked in the "coming soon" or "preorder" phases long enough, but are now in stock and shipping. You see, the good thing about the Lightning port is that it can power up devices, so earbuds with such a connector can all of a sudden ship with active noise-cancelling, like the JBL Reflect Aware. These are made for running and general fitness time, too, with a liquid-resistant housing and flashy colors, even the cable is reflective. The JBL set sports inline controls with a built-in microphone there, and has pass-through noise setting for when you run or cycle and want to hear the car traffic around you.
If you are looking for active noise-canceling or inline controls, like on the JBL combo, the Philips Fidelio M2L doesn't have those. but, then, these on-ear headphones are meant to be used as a midrange set for rocking beats at home, not run through the park with them. They. however, sport integrated digital-to-analog converter and amplifier to take full advantage of high-res sound coming all-digital through the iPhone's Lightning port, without cable crosstalk and interference.
Not a midrange kind of audiophile? Then the Audeze Sine set is for you, at the hefty $499 (but there is an installment plan for easy monthly payments!). These sit quite above the Philips Fidelio or JBL set in terms of pricing because they offer as they are one of the few with planar magnetic drivers instead of the usual cans, producing richer, more dynamic sound in close proximity to your ear.
The Lightning connector allows the SINE set to circumvent the iPhone's audio chip, and pump 24-bit sound straight to the headphones' integrated amplifier, DAC and DSP module that Audeze calls Cipher. The cords are flat and tangle-free, and the exterior of the Lightning-friendly Audeze Sine is crafted by BMW's Designworks with clean, sturdy and classy looks.
Sitting a bit lower on the price tag scale (at least as far as Lightning-first earphones are concerned), the Libratone Q-Adapt combo carries its name from the adaptive active noise cancellation feature that the company calls CityMix. Tapping a key on the inline remote will let you choose from no less than four levels of pass-through surrounding noise. The Libratone kit isn't made for running and a lot of sweating around it, but it still comes in four flashy colors to match your styling.
The most glaring advantage of the Brightech Pure Lightning earbuds is, of course, its fifty bucks pricing, which is more than three times less than the second-cheapest in our roundup here. The Brightech kit still offers a tangle-proof flat cord, albeit in an overly-flashy color, and inline control. Unfortunately, there is no mic to use the Brigtech kit as a headset, and no active noise-cancellation to speak of.
We've saved the best for last! If you absolutely have to have a stereophile geek-out with your new iPhone 7, this $799 set is the one for you. The EL-8 Titanium represents Audeze's highest-end headphones, and it does come with the Cipher module we told you about in the SINE writeup, combining a DAC, processor and an amp in the inline controls. They, too, use a planar magnetic transducer, but, as you can grasp from the full-size cups, offer richer, wider sound than the Sine. Given the added bulk, though, you'd likely be using them mostly at home or on the plane, rather than on your morning commute.
By now you can sense that the audiophiles are fond of Audeze's bang for the buck offerings, especially with the SINE line. Well, Audeze is not resting on its laurels, and just introduced the first in-ear headphones with the planar magnetic tech that was previously reserved for its larger, bulkier over-the-head models. Needless to say, the magnet force means these are a fair bit bigger than your average earbuds, but the sound output most likely will be worth the tradeoff. Unfortunately, all that miniaturization won't come cheap, and there is even a more expensive iSINE20 version with longer voice-coil "
for better bass, clarity, and improved imaging
."
Still, if you are looking for the very best in portable Lightning-friendly buds with planar magnetic tech to peruse with your new iPhone 7 on your commute, there is no looking the other way here. We are placing the Audeze iSINE10 as a bonus listing, since those won't ship before November, and by that time there will be plenty of people with new iPhones in their hands, looking for an alternative to Apple's $29 Lightning-equipped EarPods.