"Hey, Siri": Apple allows you to activate the assistant by voice only, builds in Shazam song recognition
47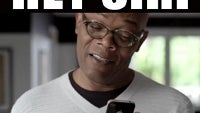 Apple is trying to make Siri, the intelligent iOS voice assistant, even smarter. The most notable new feature of Siri is that you can actually turn it on by just saying
"Hey, Siri"
(ring an "Okay, Google" bell?) - no need to double tap, or even tap any buttons.
Apple has also added music recognition capability directly into Siri via a partnership with Shazam. The feature was rumored before the event, and it has turned out to be indeed true.
Siri also gets a few new features: you can now make iTunes purchases via voice, plus Siri now takes commands in 22 additional languages.
Finally, Siri is integrated with Apple's new smarthome iOS features. You can just say to Siri
"get ready for bed"
and you'll have your smart home lock doors and dim the lights. Neat, isn't it?