Hesvitband S3 hands-on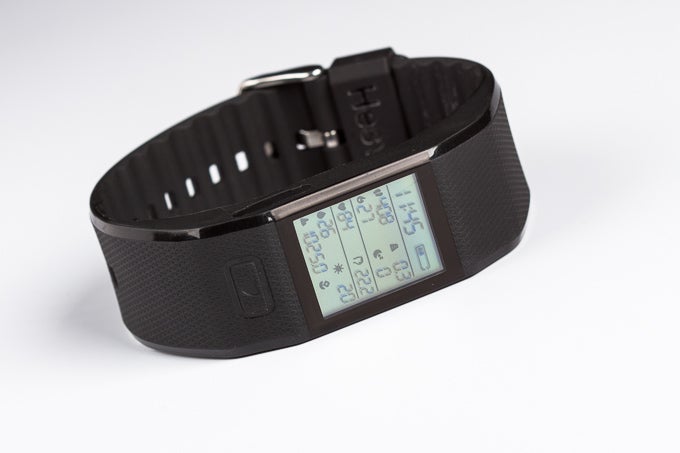 This story is sponsored by Hesvit. PhoneArena's opinions in this article have not been affected in any way!
As manufacturing know-how becomes more and more prevalent and component prices come down, so do prices of gadgets follow. One distinct category that has emerged in the past two or so years is the dedicated health tracker, and the Hesvitband S3 by Hesvit is one way to go. A mix between affordability and extensive functionality, the Hesvitband S3 has the kinds of health sensors that you didn't even know existed. Let's talk about it.
Design
Available in black, white, red, blue, and orange, the Hesvitband S3 can be both inconspicuous and incongruous depending on which option you go for. Ours is the black make, and we have to say that despite the sizable display, it is somewhat invisible when on our wrist. The health band is made out of elastic, rubberized thermoplastic polyurethane (TPU), and features a robust, stainless steel clasp. The fit is decently comfortable, and the length of the band is sufficient for even larger-than-average men. There are no lugs, so make sure the band color you pick is to your liking—these are non-removable.
On the back of the body, you'll find a number of sensors towards the center portion, with the heart rate monitor being most prominent. Up front, a large, rectangular button lets you initiate a pulse reading. The charging port can be found on the left side.
Display
The aforementioned display on the Hesvitband S3 is of the LCD monochrome type, and measures 17 by 22 mm, or about 0.6 inches in size. While this may sound like way too little—even compared to smartwatches—it's actually plenty for a health tracker like this.
You'll see no backlighting for the screen at first, but you can press the front button and light it up for a few seconds. We had no trouble discerning the content displayed at this time of the year—even when outside—so you should have an easy time making out the screen.
Interface and functionality
Being a dedicated health tracker with no support for notifications, the Hesvitband S3's interface is rather easy to get to grips with once you figure out what's what. The UI is overly utilitarian and comprised of two columns with six rows of indicators, each of which is fed its readings by the various sensors on board. Those include a tri-axis accelerometer, and heart rate, air pressure, temperature and humidity sensors. Its these tiny widgets that are at the core of the S3.
Starting with the accelerometer, it's used to populate the steps counter field and estimate the distance you've traveled each day (data resets every 24 hours). Below these two, you'll find an estimation of calories burned (using data such as your gender, age, height and weight), along with the time you've spent sleeping. The heart rate sensor is semi-automatic, meaning that while you can long-press the front button to take an immediate reading, it'll automatically take measurements every hour in order to give you a better picture of your cardiovascular activity.
The Hestvitband S3 can also track barometric pressure, along with rather unique stats, such as wrist humidity and temperature. The former is a good indicator of when your skin is getting too dry and you should probably go for a hydrating hand cream, while the latter is a predictor of comfort.
That's not all, however—the Hesvitband S3 comes with an eponymous companion app. Contact between the two is established through Bluetooth 4.0 Low Energy, and the app serves as a dashboard that mirrors the readings from your wrist when you hit the sync button. Doing so is advisable, as this will allow you to, eventually, step back and see historic readings and have the opportunity to analyze your lifestyle and the areas in need of improvement.
Battery
Hesvit outfitted the Hesvitband S3 with a 60mAh, Lithium polymer battery. To top it off, you just plug the mini-USB jack into the band, and the other end to any computer. It needs about an hour and a half to go from zero to full.
Indeed, despite the seemingly tiny capacity, the cell on the Hesvitband S3 is actually kind of large for a health tracker. In our experience, it should last you anywhere between 3 to 4 days of active usage, while standby time is rated at 5 to 7 days. These aren't chart-topping scores, but not horribly short either.
Expectations
At no more and no less than $79, Hesvit's Hesvitband S3 is competitive in terms of pricing, though not exactly the cheapest solution on the market. For that kind of money, however, we were unable to find a more thorough health tracker, and we did try. If you're at all interested in keeping healthy, then, add Hesvit's solution to your research list—you may find it's a good fit.
A new player in town, Hesvit is hoping to improve its visibility among tech consumers by actively participating in related expos. Hesvit will exhibit at both MWC 2015 in February and CeBIT 2016 in March.