Here's what's inside the Sony Ericsson Xperia X10 mini
0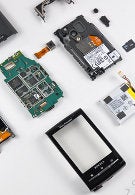 In one of their latest posts, those evil geniuses over at iFixit have done what they do best to the poor little
Sony Ericsson Xperia X10 mini
- they have torn it into pieces. How sweet!
Nonetheless, it is indeed interesting to examine the cleverly-assembled innards of the Android-powered smartphone. Not that there's much to look at, but you can at least see what a 600MHz Qualcomm processor or a logic board look like.
Hit the source for a full guide on how to disassemble the
X10
mini. However, if we were you (who we aren't, but still), we would rather enjoy the full four pages of our
Sony Ericsson Xperia X10 mini Review
.
source:
iFixit