Here are the craziest and weirdest tech demos and presentations
9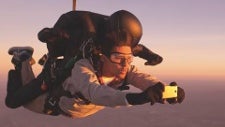 Yesterday, Google brought the craziest live demo so far with skydivers on the roof of San Francisco's Moscone center, and then bikers and wall climbers, all equipped with Project Glass and in a live hangout, arriving on the scene at Google I/O 2012. This was definitely the craziest live demonstration we've seen ever.
But we bet there are plenty more crazy and weird moments during those keynotes. Some are crazy in just the opposite way as in madman crazy. As in... Ballmer crazy. You know we couldn't go without him in a list of crazy presentations, didn't you?
We've picked five our favorite moments, but we're sure there is a ton more, so let's make this even more interesting - add the weird, crazy and fun moments you probably all remember in the comments below!