Helio updates its product line with Samsung Drift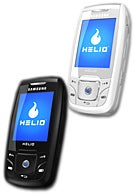 Samsung phone named Drift is the new addition in the Helio (a MVNO carrier) product line. The Drift is a slider, with thickness of 0.7 inches, featuring large QVGA display and 2-megapixel camera. It has 128MB of memory, expandable with microSD card, as well as music and video player. The EV-DO capable phone is Helio's first to feature navigation (GPS).
The slider phone is now available for $225, and can be purchased in either white or black color.
Source: Helio