Have your Lumia cake and eat it too – literally!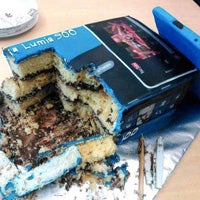 It's hard to deny that the Nokia Lumia 900 is delicious looking phone. But is it good enough to eat? Normally no, unless it's made out of cake.
We're not sure what the occasion was, but Nokia just posted a few pictures on Facebook of some incredible cakes inspired by the beautifully different Lumia 900. As you can see there is one for both the white and cyan variants with their respective packaging.
No matter how you feel about Windows Phone and Nokia's devices, you have to admit, the skills of the decorator are definitely eminent and it really is a great choice of device to duplicate with a confectionery masterpiece.