Happy camper pops up at an Apple store, waits for fame and glory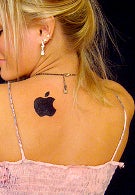 Oh, the passion and the glory of beingan early adopter, just what they do to gadget freaks! We haveprobably the first winner of the Apple iPhone 4 fanboy award thisyear lined up in front of an Apple store, with still nobody behindhim. The guy, called Justin, has been photographed in Dallas, Texas,with his tent up, and his heart in the right place. His take onthings is that he doesn't have anything better to do and was first inline for the Apple iPhone 3GS as well there.
Now, we are not against any form ofgadget appreciation here at PhoneArena, but what's your take on theattention seeker? An extreme case of the otherwise mild OCD calledApple fanboyism? Apple viral marketing? Get-a-life?
source:
Dallas News
via
Gizmodo