Hands-on with the new Verizon PTT devices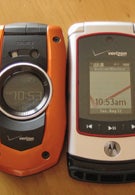 The Casio G'zOne Boulder and Motorola Adventure are now available from Verizon Wireless, and mark the launch of their second-generation PTT service. Both devices are Mil Spec, with the Casio being the more rugged (and waterproof) of the two. Both devices feature EVDO Rev. A, GPS, microSD expansion and VCast Music and Video. The Moto has a 2.0 megapixel camera, compared with the Casio's 1.3MP shooter, and external music controls. The Casio features unique tools, such as the electronic compass and flashlight feature. The Casio comes in either orange or silver, and the silver is available sans camera.

Stay tuned for our Verizon PTT reviews!
Casio G'zOne Boulder Specifications
/
Motorola Adventure V750 Specifications