Hands on with the Treo Pro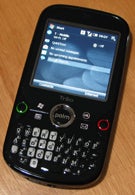 Palm stands at a crossroads, but thanks to the Centro they appear to be on the proper side. The Treo Pro is their next step back to prominence, and its a pretty good looking step. The Windows Mobile 6.1 device departs from the traditional Treo image and slims down to just 13mm while getting a sexy makeover. Beauty is more than skin deep though, and the Treo Pro deliveres just about anything you could want in a smartphone. It features a 400MHz processor with 128MB of RAM, 256MB of ROM and microSD expansion to 32GB when available. On the connectivity side you'll find HSDPA 3.6, Wi-Fi and Bluetooth 2.0. Will the Treo Pro help bring Palm out of the depths and back into the limelight?
Stay tunes for our full review of the Treo Pro soon!
Palm Treo Pro Specifications