Hands-on with the Sanyo PRO Series
28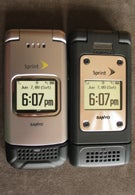 Sprint is finally poised to launch QChat, their next-generation PTT service, and for the first time iDEN and CDMA users will be able to talk to each other via Direct Connect. Sanyo is offering the PRO-200 and PRO-700 at launch, LG and Samsung will each have a unit as well with another Samsung and a Motorola to come later.
All devices feature EVDO Rev. A, which is required for Direct Connectservice. The PRO-200 is the more consumer-friendly of the two Sanyoofferings, featuring a more compact design. The PRO-700 is a MillitarySpec device that will be more popular with the traditional Nextel customerfor its rough and tumble nature. Both devices have been available inlimited markets, and unofficially Sprint is planning to launch theservice nationwide on June 15th.
Sanyo PRO-200 Specifications
Sanyo PRO-700 Specifications
Stay tuned for our full Sanyo PRO Series review!