Hands-on with the Sanyo Katana LX
1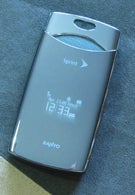 The Katana LX is an entry-level handset featuring GPS, a VGA camera and1x data. It replaces the Katana II in Sprint's lineup and is currentlyavailable in retail stores for $49.99 on contract. The LX comes inthree shiny finishes; Liquid Graphite (pictured,) Pacific Blue andElegant Pink. While the LX is a bit thicker than the Katana II andditches the QVGA display for a 128x160 main display, it adds featuressuch as tagless voice dialing and a hidden external OLED display.
Katana LX Specifications
Expect our Katana LX review soon!