Hands-on with the Nokia N96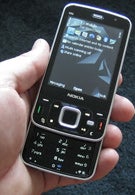 The Nokia N96 is the successor to the N95 (8GB), and features improvements such as a sleeker design, DVB-H (the European standard for mobile TV) and 16GB of internal memory. This luxury dual-slider slides up for a traditional numeric keypad, and down to reveal music controls. With 16GB of internal memory, plus a microSDHC slot capable of cards up to 32GB (when they become available) the N96 can handle more than enough music and video for just about any user. It retains the 5 megapixel camera with Carl Zeiss optics, capable of recording VGA video at up to 30fps. The Symbian S60 OS has been updated to the latest Feature Pack 2. The N96 is truely a member of the elite in the mobile world.
Check back shortly for our full N96 review!
Nokia N96 Specifications
Thanks to DechoWireless for providing the device.