Hands-on with the MotoRAZR VE20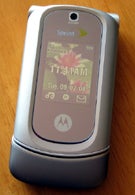 Motorola just won't let go of the RAZR, and the MotoRAZR VE20 is the latest to carry the moniker. Though it's bloodlines are unmistakable, the VE20 is narrower than the original and incorporates several upgrades. The outside display features a touch-sensitive strip like the V9m, and internally it is upgraded to QVGA. It also upgrades to a 2.0 megapixel camera and 3.5mm headset jack. The narrower profile makes the device easier to hold in the hand, and the QVGA allows for a much crisper viewing experience. Other features include microSD expansion, Bluetooth, SprintTV, Radio and Music Store.
Look for our MotoRAZR VE20 review soon!
MotoRAZR VE20 Specifications