Hands-on with the HTC Vox and Athena
This article contains unofficial information.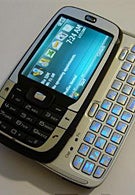 A lucky guy called Lucretius got his hands on the HTC's latest PPC andSmartphone that are probably the hottest devices of the manufacturer –the HTC Athena and the HTC Vox. We've written a lot about the5"-VGA-8GB-624MHZ-beauty Athena, but that Lucretius had the chance to getsome hands-on experience with it and even posted short preview articlewith a few images and screenshots.
He also got the 200-mhz Smartphone called the Vox. The interesting thing about it is that it features side-sliding QWERTY keyboard, but doesn't lack standard numeric one either. His phone was running on Crossbow OS, which will probably come with the commercially available units.
Source:
Lucretius
-
Vox
,
Athena