Hands-on with the HTC Touch Diamond
3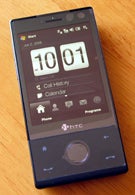 The HTC Touch Diamond is the much-anticipated follow-up to the wildly successful Touch. The Diamond builds on that success by offering upgrades in every way; it is leaner, faster and prettier. The Diamond outdoes the already svelte Touch by slimming down to just 11.5mm thin, the memory has been bumped to 192MB RAM with 4GB internal storage, the camera upgraded to 3.2 megapixel, 7.2Mbit/s HSDPA has been added and TouchFLO has been completely redesigned as TouchFLO 3D. All-in-all, the Touch Diamond is a gorgeous piece of hardware with buttery-smooth software to back it up.
HTC Touch Diamond Specifications
Look for our Touch Diamond review soon!