Hands-on with Sanyo S1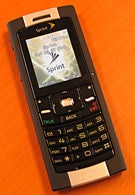 It is aimed atno-frills users who just want a high quality phone without any extras.
Being a Sanyo, it has a fantasticspeakerphone and the build quality is top notch.
The phone is coated in soft touch paint, andits thin design makes it easy to both hold and slide away in your pocket.
The S1 is available now though Sprint'sindirect channels.