Hands-on with Samsung Katalyst
1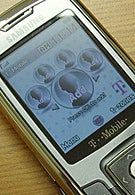 Today, we bring you the Samsung Katalyst. It's a stylish,quad-band slider that also comes with Wi-Fi that makes use of T-Mobiles Hotspot@Home service, which uses the wireless LAN network to reduce the cost of your calls. It's really just a basic handset, but features common featuressuch as Bluetooth, a 1.3MP camera, and a MicroSD card slot.

Samsung Katalyst Specifications

Stay tuned for ourreview soon.