Hands-on with Samsung G800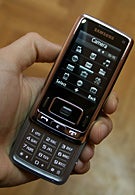 Samsung G800 is the most advanced cameraphone of the manufacturer, coming with attractive specifications like 3-times optical zoom, Xenon flash and 5-megapixel resolution. In addition it is advertised for its new-generation camera interface and new features like face-detection, which should always keep your friends (for example) as the object in focus on the image. On theory, it should move the Samsung cameraphones to the next level, but will be it as good as its rivals?
Expect our Samsung SGH-G800 Review soon to see the answers!