Hands-on with Nokia 5700 XpressMusic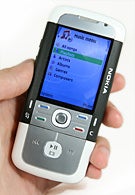 The 5700 is a Symbian 9.2 S60 smartphone with 369MHz processor, making it very responsive. Its functionality includes all the bells and whistles of those smartphones but this comes in a package with youth-oriented design and music features.
In the box, you will find 2-parts stereo noise-canceling headphones to enjoy the music but as they have an adapter, any standard headphones can be connected. You can also connect some via Stereo Bluetooth.