Hands-on with Motorola RAZR2 V9 for AT&T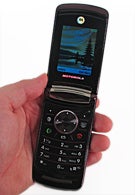 The V9 is the first GSM RAZR2 to hit the US market, similar in design to the V9m, it is a bit thicker and heavier than its CDMA counterpart (funny, isn't it usually the other way around?) but retains the 3G data, 2 megapixel camera and large external display. The design is the same, featuring the glossy stainless steel and glass casing in a new burgundy hue. All of AT&T's media options are onboard this quad-band HSDPA 3.6 handset, including Media Net, Cellular Video and AT&T Music. So how does the V9 stack up to the V9m?
Expect our Motoroola RAZR2 V9 Review soon!