Hands-on with Motorola RAZR2 V8 for T-Mobile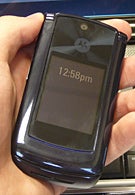 After a long wait, the RAZR2 V8 has finally arrived and is being offered through T-Mobile. It's a very slim clamshell that holds a 2.2 inch screen on the inside and a large 2.0 inch unit on the outside. As a quad-band handset, you'll be able to use all the GSM networks across the globe. It's also equipped with a 2.0 megapixel camera, media player, and stereo Bluetooth.
For all of you eagerly waiting to see if this manages to live up to its name, expect our Motorola RAZR2 V8 review soon.