Hands-on with LG Shine AT&T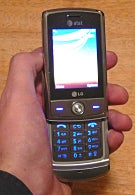 The LG Shine has made its way over to the US shores to build onto the success of the Chocolate series. The biggest change is that there is a 5 way navigational pad that replaces the 3-way scroll found on the European and Asian models. The silver aluminum casing is sure to attract attention and with quad-band support and UMTS/HSDPA 850/1900, it's more than just an attractive toy. It also sports a microSD card slot, 2MP camera, stereo Bluetooth, media player, and 70MB of internal memory on top of all of it.
To see how well this model compares to its European and Asian handset, stay tuned for our review.