Hands on with HTC Touch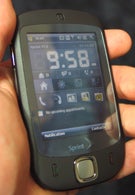 HTC and Sprint have teamed up to bring a CDMA version of the Touch to market. The Sprint Touch addresses the shortcomings of the GSM version by doubling the processing speed and memory (400MHz, 256MB ROM/64MB RAM,) and improves on the first iteration of HTC's TouchFLO interface. TouchFLO allows for finger gestures which allow the user to bring up shortcuts and manipulate photos. Other notable features include SprintTV and the Sprint Music Store, a 2 megapixel camera and microSDHC support. The Sprint Touch ships with EVDO rev 0, but will be upgradeable to rev A which will add GPS support.
Expect our HTC Touch Review!