Half of surveyed iPhone users in China express interest in switching to the Galaxy S4
19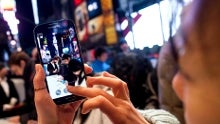 Avanti, the Taiwanese research arm of TrendForce, took to the streets in China to survey a representative sample of 3000 smartphone users, and it turned out that more than half expressed interest to own Samsung's newest
Galaxy S4
flagship.
As for a reason, the participants answered different things, but the
Full HD Super AMOLED
display was a common theme, as well as the camera and processor features.
The somewhat bad news for Apple here is that more than half of those surveyed who own an iPhone were willing to switch camps and try out Samsung's latest and greatest. Naturally, this is all a part of the aptly-named "Samsung Galaxy S4 China Market Report," plus intent to buy is not the same as actually doling out the cash, but it will still be interesting to follow the Galaxy S4 journey in China once it hits shelves.