HTC posts MWC presentation on YouTube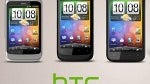 Mobile World Congress 2011 is longover, but part of its atmosphere will remain alive and if you want tosee just how it felt being there when all the new handsets andtablets were announced, you have to see the full video of HTC'sannouncements.

While HTC didn't pull the greatest show outthere (Samsung did), it nevertheless was unforgettable even for someof the technical difficulties in the beginning. Rumor has it that after the presentationHTC fired the PR agency responsible for the presentation. In any case, the announcement of six newdevices is worth watching, especially if you take into account thatamong them were the beautifully designed HTC Incredible S and oneof our favorite tablets of this year's congress – the HTC Flyer.Check out the whole video below!
source: HTC (YouTube)