HTC TyTN II (Kaiser) announced!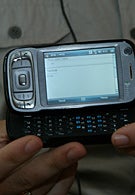 Today HTC announced the successor of their popular TyTN,
the TyTN II (click for Specifications)
. The phone that was previously known as the Kaiser in the rumors builds on the first TyTN (aka Cingular/AT&T 8525) by adding GPS chip with excellent performance, allowing the phone to be used as stand-alone Navigation system. After the side-sliding QWERTY is opened, the display can be put at an angle, resulting in an unique tilting-screen design, for more comfortable usage when watching video or reading text. Like the first TyTN, the successor features WiFi (802.11b/g), quad-band GSM/
EDGE
and tri-band UMTS/HSDPA(3.6MBps) which allows it for world 2G and 3G roaming. As it is running on WM6 Professional OS, the TyTN II is a powerful business smartphone but thanks to the TouchFlo technology, its interface is not boring.
Read our
HTC TYTN II Review.