HTC Touch Pro coming to Alltel?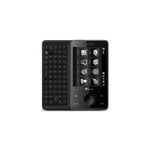 In the wireless industry, the launching of popular devices is crucial, and should this rumor be true, it would leave Verizon as the lone ranger without one of the new Touch devices. Engadget Mobile has received what appears to be a picture of an Alltel branded Touch Pro, with their intelligence stating that it will launch "soon" after the Diamond does.
No word as of yet from Verizon, although we're quite shocked that it's smaller rival (and potential acquisition) will most likely receive the device before them.
Source:
Engadget Mobile