HTC Pure support page already hits AT&T's site and its start menu gets pictured
This article contains unofficial information.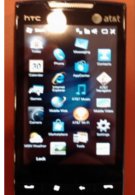 Just when you thought that HTC's current onslaught of releasing phones was slowing down, yet there is another indication of the HTC Pure making its way onto AT&T's web site. There's a support page already up and running on the site – although it's incomplete and most of the links just lead to maintenance pages. Nonetheless, it should spring to life fully in the next few days for its expected release. The Pure's start menu also gets pictured and reveals a slight different layout Windows Mobile users are accustomed to seeing. Instead we are greeted to a more finger friendly 4 column row of icons and it comes with AT&T's Java app store. There are also reports about most stores already having stock of it, so you may get a glimpse of it if you're really nice to the staff.
HTC Pure Preliminary Specifications
source:
pocketnow
and
AT&T
via
wmpoweruser