HTC HD2 unboxing preserved on video
This article contains unofficial information.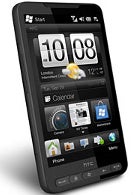 Imagine holding the box in your hand and opening it up to reveal your new HTC HD2. The sexy, super spec'd Windows Mobile phone goes through the obligatory unboxing for the camera. Stuffing it's massive 4.3 inch touchscreen into a generic box, we bet that you were thinking to yourself that this is going to be you, unboxing your own personal HD2 as soon as the phone is launched in the States. Last time we
reported
a possible U.S. launch date to you, we mentioned a first quarter release at T-Mobile. Now sit back, grab that bucket o' popcorn, dim the lights and watch the unboxing of this sexy beast. Viewer discretion is advised!
HTC HD2 Specifications
source:
EngadgetMobile