HTC Flyer Honeycomb update starts arriving today
5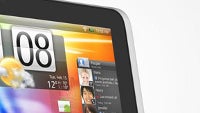 The 7-inch
HTC Flyer
stands out with its interface optimized for work with a stylus, but since the device was released in May 2011, we've only been hearing promises for
update to Honeycomb
. Now, it's finally here - the Wi-Fi version of the Flyer is starting to get Honeycomb 3.2 pushed to the device.
The
initial reports
are also pretty warm. Users say they've gotten rid of wallpaper lag, and the UI feels smooth, plus they get the bragging rights of full hardware acceleration with Honeyomb.
We, however, are more curious whether the HTC Flyer is getting updated to
Ice Cream Sandwich
. That's one thing that'd make 2012 even better, right?