HTC Desire Z case available at Best Buy
3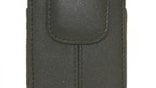 Available now on Best Buy's website is a vertical leather pouch from the brand Affinity made to fit the Android powered HTC Desire Z, even though the phone hasn't been released yet.
Best Buy has made cases available for other phones prior to their release, so this is nothing new for them. The case is a standard vertical case, but is described as "sleek" and "stylish." It is currently being sold for $32.99 and is in stock.
So if you plan on getting an HTC Desire Z when it becomes available, here is your chance to have an accessory for it early.
source:
mobile syrup