HTC DROID Eris photographed while unboxing
This article contains unofficial information.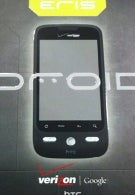 One of BGR's tipsters sent them pix of the HTC DROID Eris (you know, that other Android phone getting launched by Verizon on Friday) and he passed along word that the handset is thinner and lighter than Sprint's HTC Hero. According to the tipster, it is the best Android phone he has used after the DROID, of course. The DROID Eris will set you back just $99 after a mail-in-rebate and a 2 year contract. If the Motorola DROID were not launching on the same day, it would have been interesting to see how this device would have fared with the playing field all to itself.
HTC DROID Eris Preliminary Specifications
source:
BGR