HTC Blue Angel approved by the FCC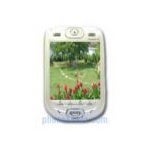 August has been very busy month for HTC. Their three latest devices have all received FCC approval and have spawned a lot of discussion in the wireless community. The HTC Harrier (CDMA) was the first new HTC device approved and it is expected to be realized from Verizon Wireless. We first brought you the news about the second HTC approved – the Vivida – a slider phone running MS Mobile for Smartphones 2003 and also expected to be released from Verizon Wireless.
The latest approved handset is the HTC Blue Angel – the GSM version of the Harrier. It features sliding out QWERTY keyboard, Bluetooth and Wi-Fi and runs Microsoft Mobile 2003 Second Phone Edition software. It is expected to be sold under several different names such as Qtek 9090, MDA III, XDA III and others.

Full HTC Blue Anger specifications and features here