HTC 10 vs iPhone 6s Plus, Galaxy S7, LG G5: low light camera comparison
Scene 7: The university
Results are a bit more consistent in this scene, which is expected, as light is plentiful. Aside from some slight color deviations, we're very pleased with the results as a whole. All four images contain a lot of detail, as seen if you take a close look at the façade's decorations. Overall, we're most satisfied with the
LG G5
and HTC 10's photos. Both phones have captured the scene in a very natural way. The
Galaxy S7
would have pleased us more if it didn't add so much sharpness to its image.
Scene 7: EXIF data


HTC 10
iPhone 6s Plus
Galaxy S7
LG G5
ISO
ISO400
ISO100
ISO200
ISO400
Shutter speed
1/20
1/8
1/18
1/20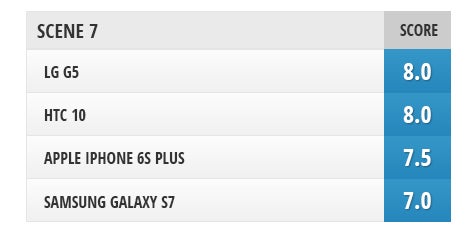 Scene 8: Under the tree
For this last set of photos, the only significant light source nearby was a street light behind us. This, apparently, wasn't enough for any of the four phones to take a compelling photo. All of the images are rather soft in detail, which is to be expected looking at the high ISO values they've used. Overall, the Galaxy S7's image is the one we find best. It looks like its camera has captured the most light, and the photo has a good amount of detail in it. The other three photos look decent overall, but nothing more.
Scene 8: EXIF data


HTC 10
iPhone 6s Plus
Galaxy S7
LG G5
ISO
ISO3200
ISO1250
ISO1250
N/A
Shutter speed
1/6
1/4
1/6
1/9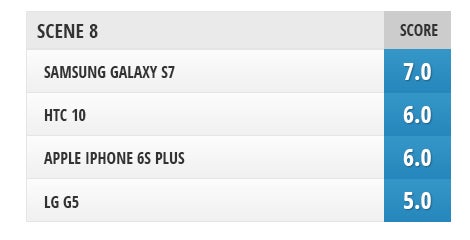 Conclusion
Now is the time to sum the scores and to announce the winning smartphone, but before we get to that, we want to congratulate HTC on stepping up its game. At long last, we have an HTC flagship with a camera that's in the same league with its high-end rivals. True, the
HTC 10
did not win today's comparison, but it gave its opponents a good run for their money. Great job, HTC!
We're no less excited to say that the LG G5 dominated this camera comparison. Scene after scene, it kept on delivering clear, detailed shots without us having to do anything more than pressing the shutter. No less importantly, it is impressive to see it producing constant results – almost every night shot that we took with it turned out really, really good.
The Galaxy S7 holds great potential with its camera, and we can't deny that we're pleased with the images it takes. Room for improvement is present, however, as the camera software has the tendency to exaggerate certain aspects of the photo, such as contrast and color saturation. Still, when it comes to low-light photography, the camera on the S7 is one of the best performers you'll come across.
As for the
iPhone 6s Plus
, it may have finished in last place, but the score gap between it and its rivals is slim. It is almost negligible, we'd say. As usual, the iPhone excels in speed and ease of use, which makes it an excellent choice for photographers of any level of expertise.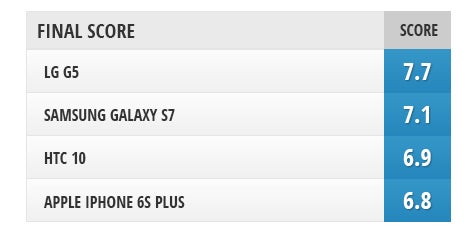 Note: Below are the full-resolution photos we took for this comparison. The high-res samples in the previous galleries were smaller in size to load faster.