HP's yesterday "Think Beyond" event now on YouTube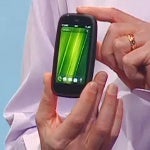 HP/Palm's "Think Beyond" eventyesterday was a milestone for webOS after the acquisition of Palm byHP. The good old Pre 2 suffered delays, which, coupled with theadvent ofWindows Phone 7, put a question mark to HP/Palm's ambitions for thethird spot in mobile operating systems. Jon Rubinstein, however, hada pair of handsets in his pockets to try to convince us that HP hasthe software and hardware to compete.
HP presented the newest HP Pre 3with a 1.4 GHz processor and a 3.6-inch screen and its smaller webOScounterpart, the HP Veer. It also unveiled the exciting HP TouchPad, the first webOS tablet, sized just like the iPad, butexpected with a dual-core Qualcomm CPU and 1GB of RAM. What abouttheir performance? Check out the full video of the "Think Beyond"event below and see the latest webOS in action.
source: HP/Palm(YouTube)