HP iPAQ Pocket PC h6300 series announced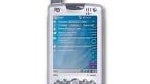 HP today announced a line of new iPAQ handheld devices. HP h6315 is the first gadget from HP to offer phone capabilities. It will be exclusively available from T-Mobile and will offer Wi-Fi, Bluetooth and GSM/GPRS connectivity. Based on Microsoft's Windows for Pocket PC Phone 2003 Edition software, the h6315 will offer 65k TFT display, built-in VGA camera, Bluetooth, IrDA, Wi-Fi 802.11b, GPRS data, E-Mail client, MMC/SD card slot, SDIO expansion slot, MP3 player, streaming multimedia, quad-band support (850/900/1800/1900 Mhz) and voice recording. Pocket versions of Microsoft software are included (Outlook, Word, Excel, Internet Explorer).
The iPAQ h6315 is expected to be available August 26 for purchase through all channels. Estimated pricing is $499 with new contract and around $600 for existing customers.
Full specification of HP iPAQ h6315 Pocket PC can be found here